zStorage 21.07 Release Notes¶
This document describes the Zadara Storage Cloud release notes. These release notes contain important information available at the time of the release. New features, important bug fixes and known limitations are addressed here.
Key Enhancements¶
VPSA Storage Array¶
Volume QoS (Quality of Service)¶
zStorage 21.07 VPSA has been enhanced to support users specified capping for block volumes IO rate and consumed throughput. VPSA users can now specify upper limits for: read IOPS, write IOPS, read throughput and write through for every VPSA volume.
Volume QoS is supported in both VPSA Storage Arrays and VPSA Flash Arrays, QoS can be configured from volumes of all media types (SSD/HDD/Tiered) Both IOPS and Bandwidth capping definitions can be applied for the same volume. In such a case, the volume will be capped by the metric reaching the specific threshold at any point in time.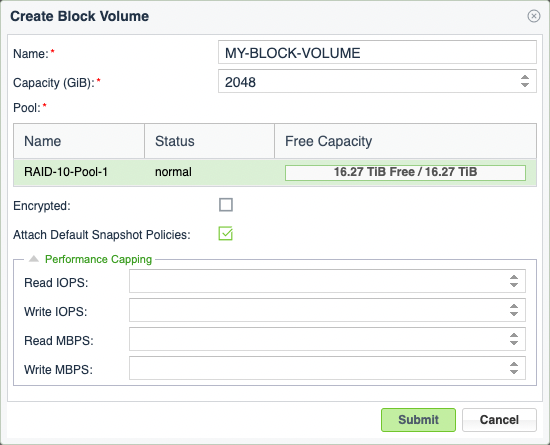 Flash Array Tiered Pools - optimized operations¶
Zadara is introducing an enhancement to the VPSA Flash array tiered pools feature that will optimize tiered pool operations in general purpose and OLTP use cases. The tiered pool chunk promotion behavior has been enhanced to reduce chunk promotion and demotion traffic in cases of random IO workloads by now taking into consideration the relative heat of specific chunks to be promoted in addition to overall pool capacity considerations.
VPSA Object Storage¶
Quota limit notifications¶
VPSA Object Storage administrators can now set quota utilization notifications for their accounts administrator based on a pre-defined custom threshold (system wide).
Rate limiting control¶
VPSA Object Storage administrators can now set rate limiting control on account basis using a global/account level threshold.
Revision History¶
21.07-222, January 2022

21.07-195, December 2021

21.07-176, November 2021

21.07-174, October 2021 (GA)